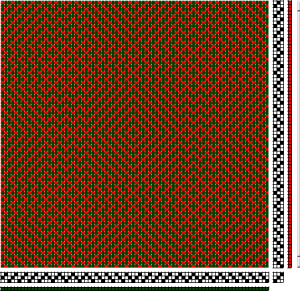 This pattern is based on an example on p. 150 of Ancient Danish Textiles from Bogs and Burials, by Margrethe Hald. 
It has been translated from 4 shafts to 3, resulting in a 2/1 broken twill as opposed to the original 2/2.
Why 3 shaft? 3 shafts are still easily accomplished on a rigid heddle loom by using two heddles. And, truth be told, there are far few patterns for rigid heddle looms.  So, when possible, I'll present drafts for them as well.