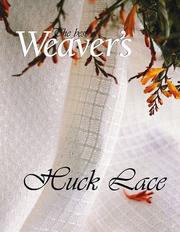 This beautiful book was out of print for a long time and copies were very, very expensive!  However, it's been re-released and is much more reasonable now.  My copy arrived just a couple of days ago and I have spent hours looking at it already.
This book provides a good foundation of the hows and whys of  Huck Lace as well as  projects running the gamut from rigid heddle looms all the way up to 16 shafts.  The majority of the projects require 8 shafts or more, but there are a number for 4 shaft looms.  I am looking forward to weaving them on my four shaft, as well as doing designs with "muck" lace on my rigid heddle.
The photography is gorgeous.
This book is not necessarily aimed at beginning weavers, though I think that you don't have to be an expert, either, to find benefit from this book.
If you're interested in lace, I highly recommend it.